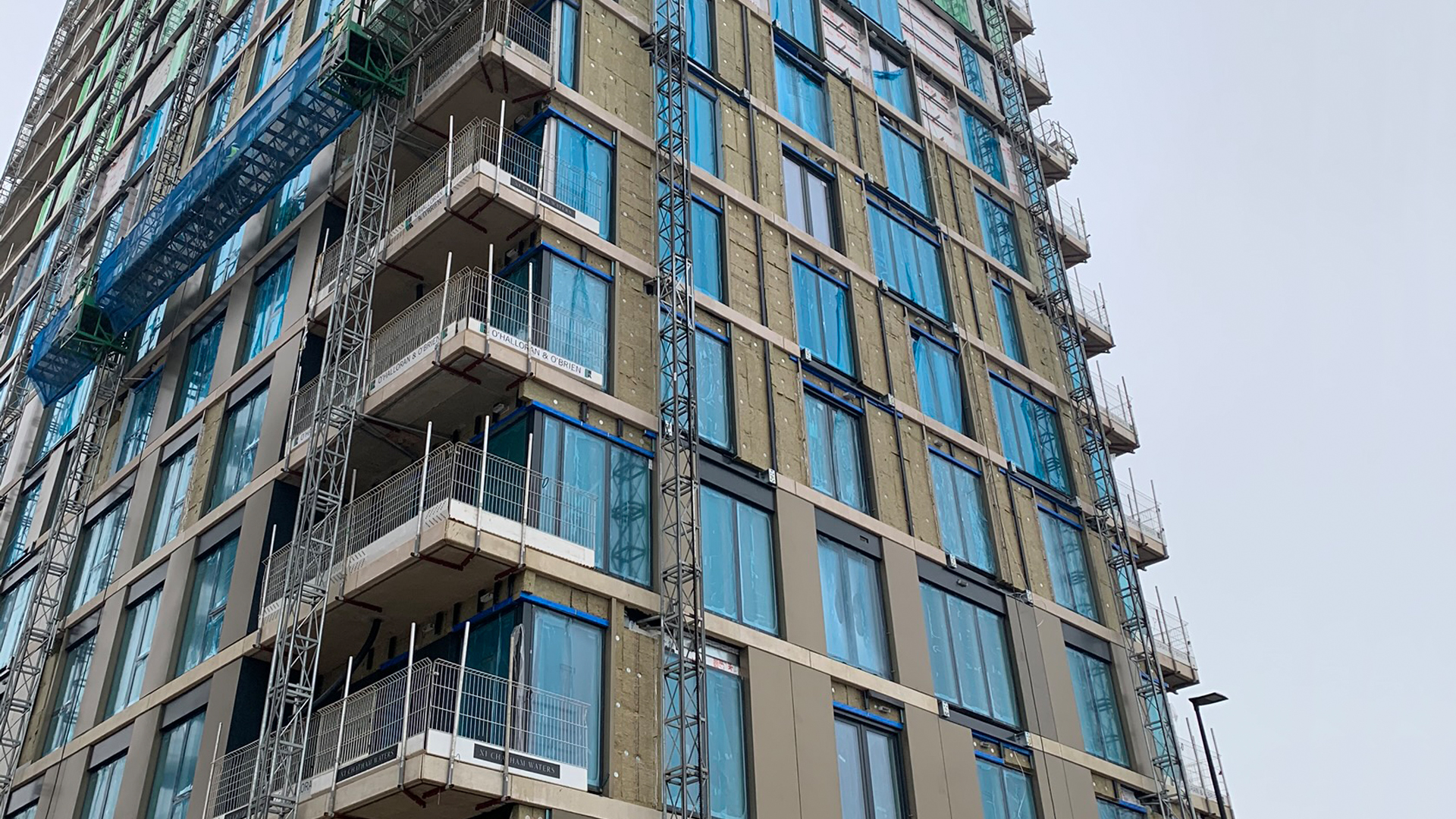 Rainscreen Cladding Support Systems
Rainscreen cladding has been around, in various guises, for centuries, but the more modern incarnation was developed in Scandinavia during the 1940s. During the '50s, UK's Building Research Station declared the advantages of drained and ventilated air spaces behind impervious outer envelopes. However, it took a further 25 years for it to become commonplace.
The Centre for Window and Cladding Technology (CWCT) Standard for systemised building envelopes defines curtain walling as 'a form of predominantly vertical building envelope which supports no load other than its own weight and the environmental forces which act upon it'. Similarly, rainscreen cladding is described as a non-loadbearing external cladding assembly defined as 'a wall comprised of an outer skin of panels and an airtight insulated backing wall separated by a ventilated cavity. Some water may penetrate into the cavity but the rainscreen is intended to provide protection from direct rain'. So, the key distinction is that curtain walling is usually the whole envelope, while rainscreen cladding is the outer protective layer of the envelope.
The Argonaut Rainscreen Cladding Support Systems offer support for ventilated facades and are all manufactured from A1 non-combustible and sustainable aluminium.
The Argonaut System
Manufactured at our factory in Southampton and compatible with a variety of façade finishes, we have been fabricating support systems for over twenty years.
Both our single and double brackets are precision engineered from 5083 grade aluminium known for its exceptional performance in extreme environments. Our brackets also feature an integral heat-stabilised, 5mm thick high rigidity PVC isolation pad. We keep a number of standard brackets sizes available in stock to suit cavity widths of 97mm to 277mm and custom sizes can be manufactured to your specific requirements.
The integration of our 5mm high rigidity PVC isolation pad is paramount to our system, bringing both thermal property enhancements and long-term performance.
All brackets are universal and allow for both fixed point and floating-point rail support. They can also be fixed back to a number of substrates such as brickwork, blockwork, concrete, masonry, timber and steel framing systems (SFS).
The Argonaut support T and L rails are formed from 6063 T6 aluminium. Aluminium 6063 is commonly referred to as the architectural alloy. It has a good surface finish and is highly corrosion resistant. Argonaut Support T Rails are offered in both 45mm and 60mm depths.
Choose Argonaut
Fast, efficient and cost effective, our systems are all produced from aluminium. Aluminium is one of the most sustainable building materials in the world. It is lightweight, strong, highly corrosion resistant and infinitely recyclable.
Whether you want your support structure supplied in the standard mill finish or wish to add a colour to compliment certain cladding types, or perhaps you even want to add a profile between the panel joints to create a feature, we can tailor each solution to your requirements.
We are also able to offer a floor span system which is custom designed around the specific requirements of your project. Our system incorporates a high strength box section, capable of spanning large floor heights, providing suitable support even if you cannot fix to the walls between floors.
Find out more
The Argonaut Rainscreen Support Structure brings a simple solution to a complex problem. If you are looking for a reliable supplier or would prefer us to design an entire cladding system on your behalf, we are here to help. If you would like further information or want to discuss your particular requirements, please get in touch.
To discuss your requirements call 02380 873455 or email [email protected].
Rainscreen Cladding Support Systems Gallery